Just like the refresh settings in the E Ink Center, NeoReader also provides some advanced settings especially for reading documents. In this article, you will learn more about the Refresh Settings in NeoReader.
To go to the Refresh Settings in NeoReader, do the following:
In NeoReader, tap the center area to display the main menu.
Tap the hamburger menu in the top right corner and choose Refresh.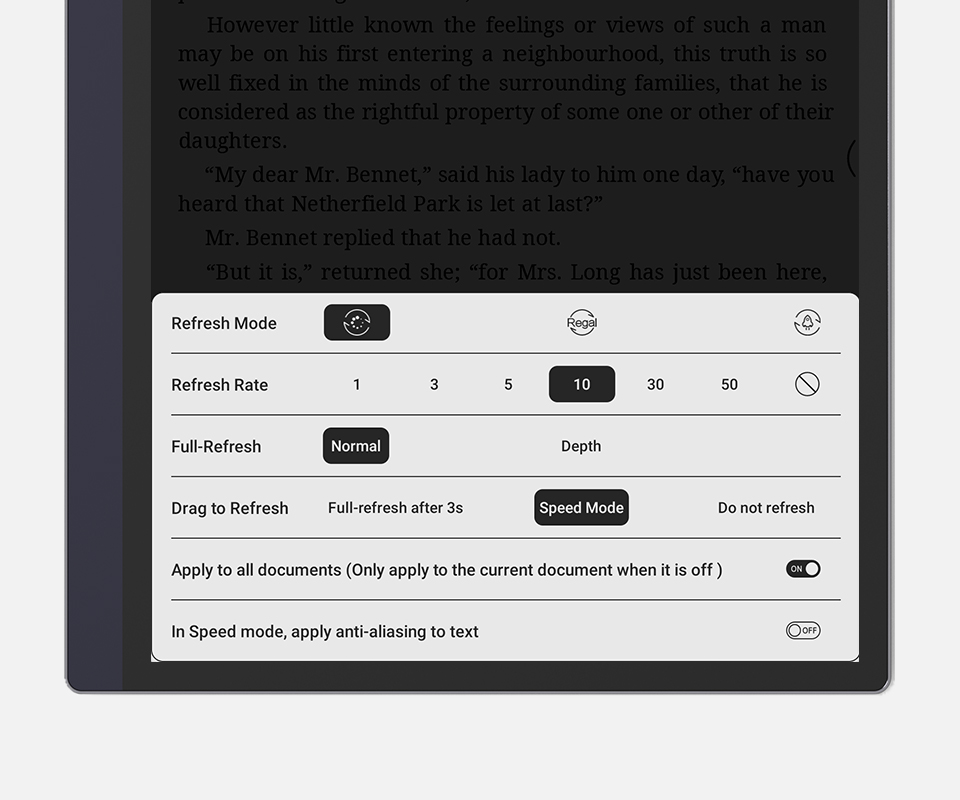 Page Refresh
Here you can switch between Normal Mode, Regal Mode and Speed Mode. Please refer to the
Refresh Modes
page for more info of different Refresh Modes.
Refresh Rate
Here you can set the frequency to perform a full refresh based on your actions. The more taps you need, the more ghosting it will accumulate before a full refresh.
Deep Full-Refresh
You can turn the Full-Refresh setting to Depth if you need cleaner display effects with minimal ghosting.
Drag to refresh
Here you can set the refresh method after dragging.
Apply to all documents
Here you can choose whether the refresh settings will apply to all documents or the current document.
In Speed mode, apply anti-aliasing to text
Here you can choose whether anti-aliasing is applied to gain a smooth display effect in Speed mode.