BOOX is committed to providing free firmware updates for all models for at least 3 years since the product launch. With the latest firmware, you can enjoy the most improved user experience and the newest features on your BOOX device. In this article, you will learn how to get firmware updates easily.
Note:
Please back up your data and files before the update to avoid unexpected data loss.
It's suggested to connect the device to power when upgrading.
Before you update to a new firmware, please switch the NeoReader to the V2 engine to avoid data mess and confusion. (Open a book > Settings in the upper right corner > Other Settings > Use the V2 engine)
Please sync your notes to the cloud again once you've updated to a new firmware.
Since V3.0 Firmware, restoring the factory settings will format the storage by default and all stored personal files will be cleared. Please back all files up before restoring the factory settings.
Method 1: Download on your BOOX device
In Home Screen, go to Settings > Firmware Update.
It will automatically detect the available firmware update, or you can tap Check for updates to check manually.
Note: The firmware update is released in batches. The priority for each model may vary. Please wait patiently if your BOOX model does not detect the latest firmware update.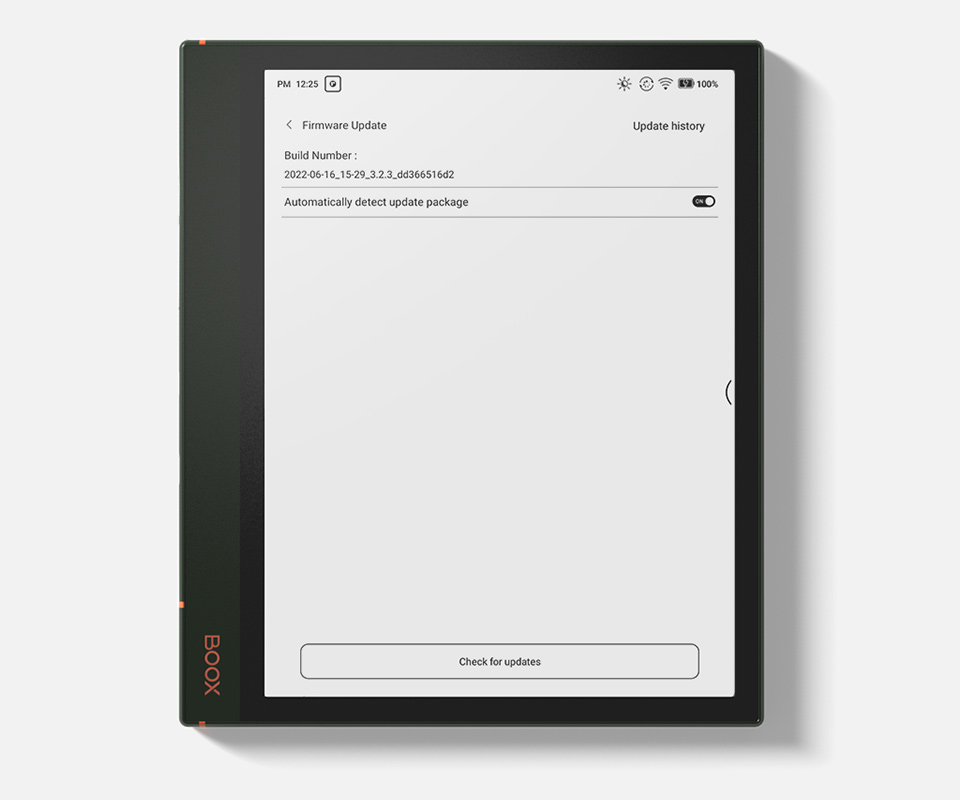 Method 2: Contact us via Feedback
If you wait too long to receive our firmware, you can contact us by doing the following:
In Home Screen, go to Settings > Feedback.
Tap the + button in the bottom right corner.
Type in your request and tap Send.
Wait patiently for our reply.